Home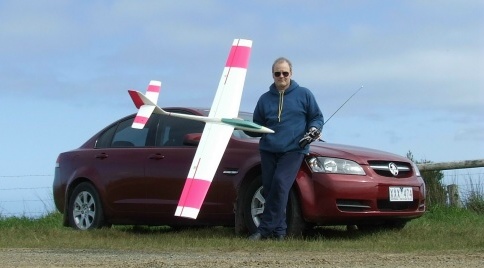 Introduction
Gidday from down under and welcome to my website which began in April 1999. My name is Ian and I've been flying gliders, powered aircraft, including helicopters, since 1978.  I live in the state of Victoria, Australia. For many years I flew on the Mornington Peninsula, mostly at Flinders. This area is about 1½ hours drive south of Victoria's largest city, Melbourne. I moved to Bass in 2000 where I now fly near the Bass Coast. This area is located on the western side of Western Port Bay and is also about 1½ drive from Melbourne.
Slope soaring aerobatics is my passion as you will soon learn when you browse through my pages. Since about 1993, I have been constantly developing rules and guidelines for the purpose of competitive slope soaring. In my site there is information for the keen slope soaring enthusiast, which is both unique and entertaining. Enjoy your journey and feel free to download any articles which will be of benefit. If you would like to contribute articles please do so.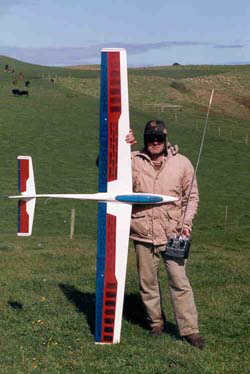 What is Slope Aerobatics?
Slope aerobatics teaches you far more about flying than many of you could possibly imagine. The sort of aerobatics flying that I'm talking about goes way beyond just performing fancy manoeuvres. This untapped facet of R.C. flying has so much to offer in the way of self-discipline and motor skills development.
Top Photo 2010 - Kilcunda, Victoria, Australia
Model: Southern Sailplanes, Ricochet Bullet.
Wings, rudder and trims have been customised.
I have used this type of glider for our state aerobatics championship and other contests throughout the past three decades. This is the fourth one I built.
Photo Right 1992 - Flinders, Victoria, Australia
Also a Bullet. This was the third Ricochet I built. Here's a PDF listing my aeromodelling history.

Personal Details
My profession is an Engineering Patternmaker, which involves designing and making patterns for industry.  The patternmaker was the predominent backbone of the foundry industry in the 20th Century. The materials I use are wood, metal, fibreglass, resins and plastics. I also have small hobby shop.  Both businesses I run from home.
In my spare time I play competitive badminton and despite having bypass surgery in 2001 at the age of 50 and still suffering from post-op trauma, I remain positive and very competitive.  I have had a go at many sports over my lifetime, including tennis, squash, kayaking, diving, cricket, bi-athlons, pentathlons, to name a few.
I am the editor of a community newsletter called the Bass Valley News, which I have been producing and delivering every month, 11 months of the year since 2001. Click here to view this online colour newsletter.